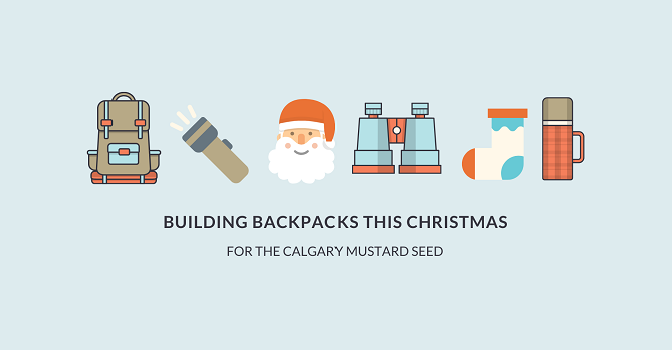 This Advent Season we would like VAPC's help to build backpacks for the Calgary Mustard Seed.
The Mustard Seed has been serving people experiencing poverty and homelessness in Alberta since the '80s. It has become a haven for those needing help, which is offered through open hands with unconditional love.
The growth of The Mustard Seed has been much like the Bible, where Jesus tells the parable of the mustard seed.
"The kingdom of heaven is like a mustard seed that someone took and sowed in his field: it is the smallest of all seeds, but when it has grown it is the greatest of shrubs and becomes a tree, so that the birds of the air come and make nests in its branches." – Matthew 13:31-32
The backpacks we build will help someone in need this holiday season. Beginning December 1, check the Christmas tree in Scott Hall! The tree will be covered with gift tags listing an item which you can go and purchase. Return your item (with tag attached) and place it under the tree! Examples of gifts being collected include toiletries, $10 Tim Horton/McDonald gift cards, flashlights, toques, and backpacks. Take one tag or take a few!