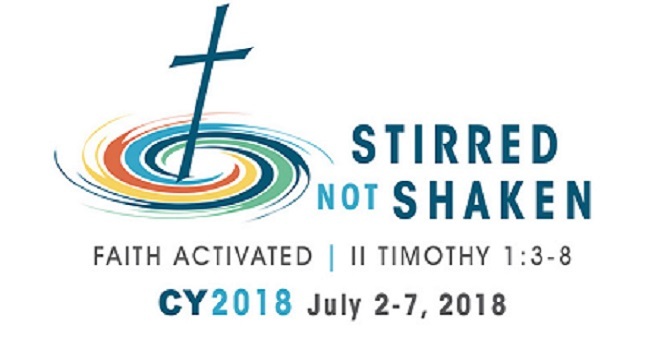 Thursday July 5 - Rebecca Wytsma
Today was Interruption Day, meaning we changed up our usual activities to focus on a relevant topic that affects the world. This year it was food security, on a local and global scale. In the morning, there were two speakers, who discussed what food security is and what PWS&D is doing for the issue. I think all of us realized how big a problem this is and would like to share what we learned with our home congregations. There were workshops in the afternoon. I first watched a documentary on how our food is made, then participated in a discussion about making faithful food choices. In worship this evening, we had communion (best bread I've ever tasted). This was followed by CY's talent show "Stirring Performances." It was a fantastic show including an act from VAPC's in-house musician, Alexander. The highlight of the show was the international group, who showed us traditional song and dances from their countries, including Malawi, Ghana, and Taiwan. The Lebanese group taught all of CY one of their traditional dances, which was the perfect way to cap of the night.
Thursday July 5 - Georgia Stewart
We had sausage, french toast, eggs and hash browns today for brekkie. Breakfast was at 5 calgary time! So I woke up at 4 calgary time! I invited Lauren to sit with my meal group and she did! I had my first BOLD group meeting and I had Joanne Kellough for my leader. I made friends with Avery and we had some good laughs! After Lunch we went and had another BOLD session. Then I went to Henna and did this amazing design on one of my bedrock group members: This was one of my other creations (See photos below). After that we went to dinner and ate. A lot. We went to worship and it's theme was advent. They did a dramatic retelling of the scripture and I enjoyed the sermon.
Wednesday July 4 - Michael Sherret
I was in the bread baking group today. We talked about the role bread plays in the bible and baked the bread for communion tomorrow.
Wednesday July 4 - Emma Payne
I won the friendship jackpot!
Tuesday July 3 - Rebecca Wytsma
Happy Tuesday! We had a lot of fun on our first full day of CY. The discipleship track started with a keynote speaker in the morning, then talked about spiritual gifts in the afternoon. We then went and did the high ropes course that the Brock campus has! This was my favourite part of the day. Later in the evening we had worship, then a murder mystery game based on Clue.
Tuesday July 3 - John Egger
CY is off to a great start! As an A.B.L.E Advisor ("Adult Bold Leaders with Energy" - that's a laugh!), I get to participate in all the activities open to the youth track participants. Today I went to a workshop on cultural intelligence. What is cultural intelligence, you say? It is the ability to interact across cultural boundaries and differences, something that is essential to the future of the world. It is also something that the youth of the church are already taking a lead in, as I quickly found out. Tomorrow I'm off to a workshop on doing art with recycled materials!
Monday July 2 - Alexander Aldridge
Today we had our first day on the Brock campus in St Catharines. Most people slept in, but I woke up relatively early and went for a morning walk in the wonderful weather. It was really great to not have any plans for the morning after a long day of traveling. The cafeteria made everyone lunch and dinner, and it was really great to get back into the CY routine. During worship after dinner we learned about what it meant to be "Stirred Up" and to keep our faith from symbolically sleeping. Afterwards we have a video game themed night full of fun stuff to do. My favorite two stations were the hamster ball game and the stilts. They had about eight hamster ball like things that you would put on like a backpack and proceed to run and smash into your friends. The stilts were so fun to try because I have never had the opportunity to try stilts before. Balancing while walking and moving is much more challenging than it appears, and it ends up being incredibly fun! Overall I had a wonderful day on campus and I'm excited to see what the week has in store for us.
Sunday July 1 - Michael Sherret
We went to Niagara Falls today. I got to go on the Hornblower boat trip right up next to the falls. It was crazy windy there, my poncho almost blew off several times!